Getting Involved
Inspired by trees and seeds already planted, Friends of Boone County Arboretum sprouted in October, 2002. It is a non-profit, 501(c)(3) organization created to support and promote the Arboretum as a living museum.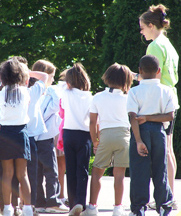 Friends members are advocates for the Arboretum in the community at large, showing others the value of this unique resource. Friends seek to create community awareness and participation at the arboretum by involving schools, sporting groups, community organizations, individuals, the business community, and garden clubs. These groups can become involved through memberships, donations, and active volunteer projects. Membership in this non-profit organization is a commitment to the education of people of all ages in the Greater Cincinnati area.
Monthly meetings are designed to keep members up-to-date with Arboretum events, explore new gardening ideas, and provide opportunities for networking.
Help Beautify the Arboretum
Many members are also dedicated volunteers, donating countless hours each year to help keep the Arboretum plant collections healthy. Members also contribute to planning and building future projects and additions to our facility. All these efforts will ensure enjoyment and educational opportunities for future generations.
Provide Valuable Program Input
Members have more opportunities to be directly involved in the planning and implementation of many Arboretum events and educational programs.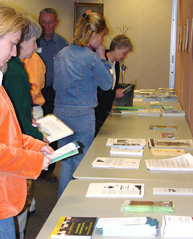 Arbor Day, Dogwood Dash 5K, school field trips, and continuing education classes are just some of the events where volunteers have a key role.
Membership Levels and Benefits
There are several different membership levels for individuals and families. In appreciation for their show of support, Friends of Boone County Arboretum is happy to offer a range of benefits to its members. All memberships include a subscription to our quarterly newsletter, "The Four Seasons", invitations to special members-only events, discounts or free admission to Arboretum events having entrance fees, and discounts at several participating local nurseries and garden stores throughout the Greater Cincinnati region. FBCA members also enjoy special admission privileges and discounts at 300 gardens throughout North America and the Cayman Islands through the American Horticultural Society's Reciprocal Admissions Program. Enhanced membership levels receive personalized Arboretum tours, home landscape consultations, a memorial brick at the Arboretum, and other gifts. Each membership level and corresponding gift package is detailed in our member benefits document. In addition, membership dues and donations may be tax deductible - consult your tax adviser.
Join Today!
Help ensure the future of Northern Kentucky's premier arboretum. Complete our secure online membership application or fill out the paper membership form and mail back to us.
For more information on becoming a member of Friends of Boone County Arboretum, please contact us.
Documents: